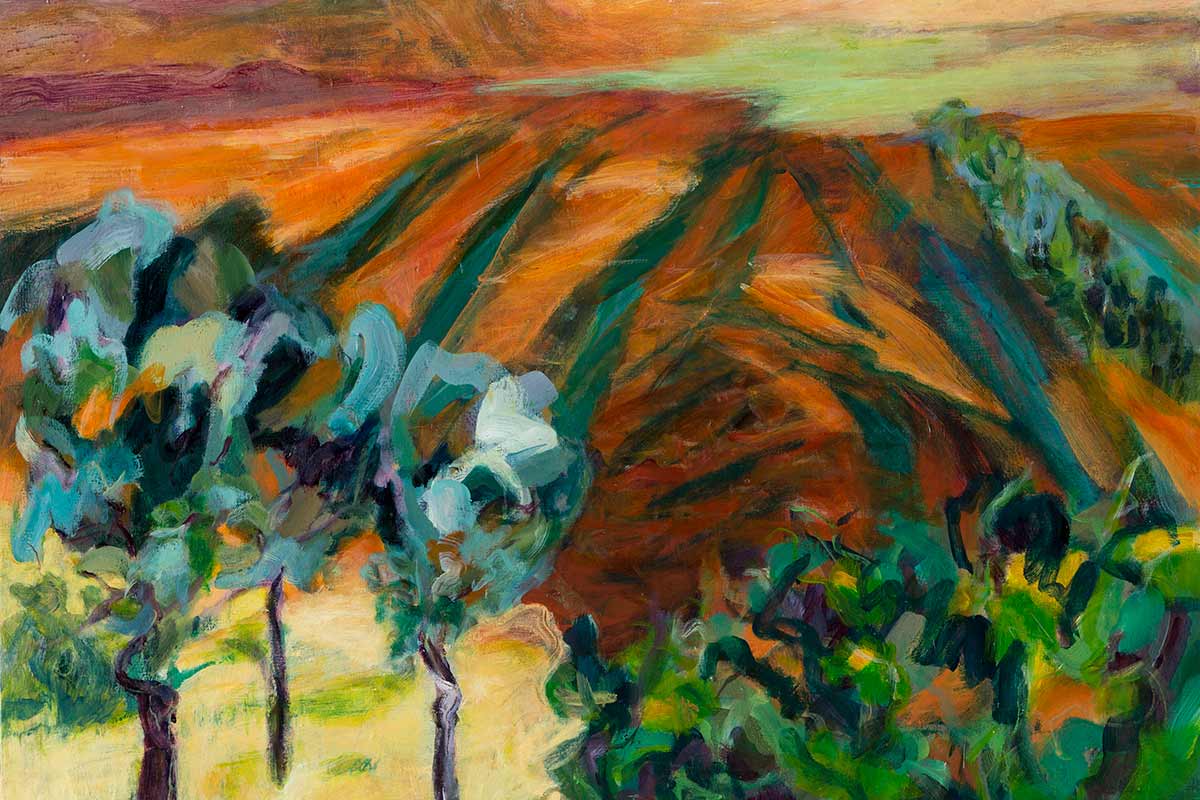 ---
About
Fiona Chaplin grew up in the English countryside immersed in nature with freedom to explore the outside world. In her early 20's she moved to Sydney. Fiona has travelled extensively, living in New York in the 80's with her young family and more recently in Spain for 2 years.
Fiona was attracted to creative pursuits from a young age always drawing and making things by hand. Her treasured childhood possession was a large box of coloured pencils. Fiona is a visual person and has always been an art enthusiast, visiting galleries all over the world and inspired by what she sees. Fiona's career largely comprised of managing architectural and interior design practices.
15 years ago Fiona began actively pursuing her passion for painting and over the years has participated in numerous art courses with leading practitioners. She paints full time in her studio at One+2 Artist Studios, Rozelle and exhibits widely in the Sydney art scene.
Fiona is an artist with a passion for the landscape especially in Australia. She is drawn to the excitement and freedom of being outdoors, observing and feeling the natural world around her, working en plein-air observing colour, texture, shape, form and using these elements to construct her semi abstract contemporary works.
Art Education
National Art School Courses – Roger Crawford and Idris Murphy
Plein Air Landscape Workshops – Ross Laurie and Tim Allen
Various courses and workshops with artists:
Debbie Mackinnon at ME Artspace, St Leonards
Tony Tozer, Jo Bertini, Judith White and Denis Clarke at Willoughby Arts Centre
Vanessa Ashcroft and Cilla Davis at Kur-ring-gai Art Centre.
Exhibitions
Drummoyne Art Society Awards Finalist 2019
Warringah Art Prize Finalist 2012, 2017
Northbridge Art Prize Finalist 2012, 2013, 2017
Hunters Hill Art Prize Finalist 2014
Lane Cove Municipal Art Awards Finalist 2012
Group Art Shows
ME Artspace, St Leonards
One+2 Artist Studios and Gallery, Rozelle
Ewart Gallery, Willoughby Arts Centre
Lane Cove Art Society, Gallery Lane Cove
Kur-ring-gai Art Centre Gallery
Represented by Emmas Cottage Vineyard Art Gallery, Lovedale, Hunter Valley